Born in Sheffield

BA (Hons) Fine Art 1980

After receiving his degree Steven Tandy spent many years working as a traditional sign writer.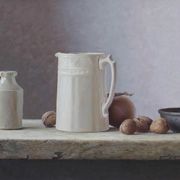 Whilst working as a sign writer Steve was able to find time to paint, exhibiting at various exhibitions on a number of occasions. He also sold a number of works through commercial galleries.
In 2012 Steve was able to take advantage of the opportunity to become a full-time artist, living and working in Sheffield, UK.
---

Working in oils Steve expresses his artistic vision primarily through the 'still life' genre.
"I am interested in light, form, surface, texture, reflection and patina. I paint from direct observation and rely upon my own perception rather than academic principles. I try to choose objects that I find visually interesting, things which have some age and may well be scratched or marked, or fruit that may be just on the cusp of decay. When two or more objects are combined into a composition a kind of synthesis occurs in which a unique relationship arises between one object and another. For me this is one of the most intriguing aspects of the genre. Objects receive light in a simple and pleasing way that allows for a calm and contemplative approach in which form, surface and detail can all be considered."