Steven Tandy is a British Artist working within the genre of Still Life Painting. He works exclusively in oils, preferring to paint on wood panels which have the advantages of rigidity and stability, a tradition which goes back to Medieval times and beyond.
Although he went to art college and collected a Degree in Fine Art, he regards himself as essentially self taught for the kind of painting he likes to practise.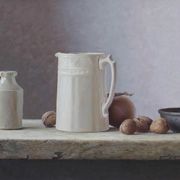 After many years of subsequent research into materials, methods and technique, combined with much trial and error he now regards himself as having sufficient knowledge to work in a manner suitable for the expression of his painting ideas.
---

There are various influences to be seen in his work, from the 'Golden Age' of Dutch painting, Chardin, Fantin-Latour and many contemporary painters. Generally his work is small scale, something which to a certain extent is derived from his love of early Northern European painting.
Although his work is strongly inspired by the art of the past he does not attempt to produce paintings that look like faux 'Old Masters', but rather to create work that is fresh yet still rooted in tradition. Above all the work must be honest. He aims to achieve this by working directly from the subject, 'Sur-la-Motif', deliberately resisting the temptation to work from photographs.
Steven Tandy is primarily interested in light, particularly the beautiful and subtle 'North Light' which cascades through his studio window illuminating his subject matter, be it old pots, glass, silver or fruit. His process is simple. He composes the still life in situ until he likes the way it looks.